Since tickets are OFFICIALLY going on sale next Friday, February 29, I thought I would share some information about the best value seats in the stadium, where to get tickets once ticketmaster.com is sold out of the seats you want, etc.
First off, there are some great deals to be had directly from the Yankees:

click here
to read about some great specials such as $5 ticket nights, buy one get one free Yankee tickets and more.
While other people are scrambling (in vain) to get tickets to the premium games, you can be cleaning up on the value tickets and getting WAY more bang for your buck. I won't delve too much more into those Yankee specials, but I highly recommend clicking the link about and familiarizing yourself with all of those offers and seeing which ones apply to you. You won't be getting good seats for $5, but you will be getting into the stadium. Moving into better seats than you purchased is MUCH harder than it was in the 80's and early 90's for obvious reasons, and I don't recommend sitting in other people's seats. However, once you are in the Stadium, the opportunity is always there for you to throw a few bucks at a security guard, or simply scout out some better seats in the early innings that are left vacant and head on over. Remember, that advice is all off the record and can result in ejection from the stadium, so proceed with caution.
Now you probably want to know where to sit in the stadium. Below is the ticket chart directly from Yankees.com: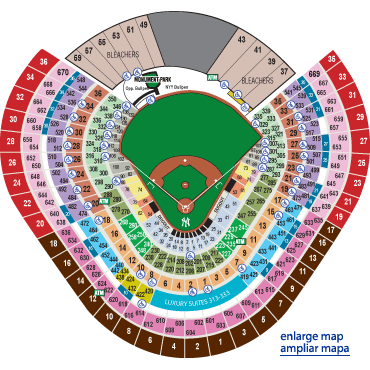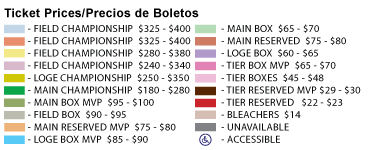 The fact remains that anything between the bases are the best seats. It goes without saying that behind the plate is the best view. Sections 1-6 in Tier Reserved are amazing seats and I'd consider them better than field level main reserved seats toward the outfield. Being closer to the action isn't always better. Some of the seats downstairs are pointed in the most ridiculous directions - I often wonder what they were thinking when they were building this stadium. I truly believe that upper deck seats are the way to go unless you are sitting between sections 1-10 on the field level. Otherwise, you will have a better experience upstairs even in sections up to and including section 18.
You will see that most of these behind the plate type of seats are sold out before you even get a chance to buy them directly from the Yankees on February 29. Now is when you'll have to enter into the murky waters of the Yankee ticket secondary market. Because this is the last year of the current Yankee Stadium, I have a feeling tickets are going to be harder to come by than usual and people will be squeezing every penny out of you.
I would always start out with
New York's Craigs List.
Taking a quick look at Craigs List, it looks like the market is ALREADY flooded with sellers. Now is the time that they are going to be demanding above face value, even for non-premium games. You should never pay above face value on Craigs List for anything other than premium games - it is not in the spirit of the site and it says as much when you post a listing to sell something. Don't let these people ruin the site. The best time to buy from Craigs List is in the days before the game you are going to. Sellers want to get rid of their tickets quickly and are more likely to take face value or below. If you are coming from out of town and are buying tickets from Craigs List, don't bother emailing the buyer unless they explicitly state the price of their tickets in the post. Too many buyers are asking for "best offer" which is a waste of your time. When they list the price, you can easily compare it to the Yankees face value price and see if they are worth purchasing. As a warning - you will be wading through a LOT of listings on Craigs List, and there will be a lot more work in arranging pickup of the tickets, payment, etc. That being said, you are getting the best value and there are no commission fees to worry about.
If you want to be spoon-fed and don't mind paying a little more money for tickets, you can head on over to Stub Hub. I'm sure nearly everyone is familiar with Stub Hub by now. The beauty of the site is that you can get the best seats in the stadium, the worst seats in the stadium, or ANYTHING in between. The downfall of the site is that they charge sellers AND buyers a commission fee, bumping up the cost of the tickets. That being said, it is VERY convenient, you don't have to deal face to face with ANYONE, and there are often bargains to be had. Below is an example of a deal that fellow blogger Kaybli recently purchased:
ORDER INFORMATION
------------------------------


Order #: xxxxxxx
Order Date: 02/22/2008 08:18 AM

Toronto Blue Jays at New York Yankees Tickets
Yankee Stadium, Bronx, NY
04/03/2008 07:05 PM
(Event time subject to change. Check local listings.)

Quantity: 2
Section: MB 246
Row: B
Comments: MAIN CHAMP BETWEEN HOME AND THIRD BASE
Special Note: Main Champ
----------------------------------------
BILLING INFORMATION
----------------------------------------
Subtotal: $154.00

Commission: $15.40
Shipping: $11.95

Order Total: $181.35
According to the official Yankee Stadium seating chart. those tickets are $180 - $280 PER ticket at face value. You can see above that Kaybli paid less than that for BOTH seats.
The Stub Hub interface is very user-friendly, and you can easily scroll around each section and see what the price range available is. Always have the stub hub window open beside the Yankee tickets pricing chart, and you won't get ripped off. For any games in the cold months of April and the beginning of May, you should easily be able to get main reserved tickets at a two for one value and upper deck seats at face value or slightly below, even on Stub Hub.
I personally will never pay more than face value to see a Yankee game. I feel that for the price of tickets and everything else at the Stadium, you should never have to pay more than that. I realize that this year MAY be different due to people cramming in one final trip to the stadium, or possibly people not wanting to miss the chance to make their first and only trip to the historic "House That Ruth built." I can only recommend that you are patient and take the time out to research the prices from all sources and become an educated consumer. If you need any more detailed advice, feel free to email me at ross@nyystadiuminsider.com and I will do my best to help.
Good luck getting tickets!